Life 2.0
2020 has certainly been a year of change as we've navigated digital transition both in the workplace and in schools. The world has seen traditional models of education and business tested, fractured, and revised. It most definitely has been a learning experience; pre-information age models are catching up with the times. There are a plethora of benefits that have come with the obstacles encountered in transitioning to new modes of operation. We quickly shifted from "1.0" into a "1.1" approach out of necessity, which took major adjusting and proved to have lasting discomfort. As we have evolved, however, we've learned lessons along the way that will impact both how we work and how we learn. Let's take a look at where we go from here!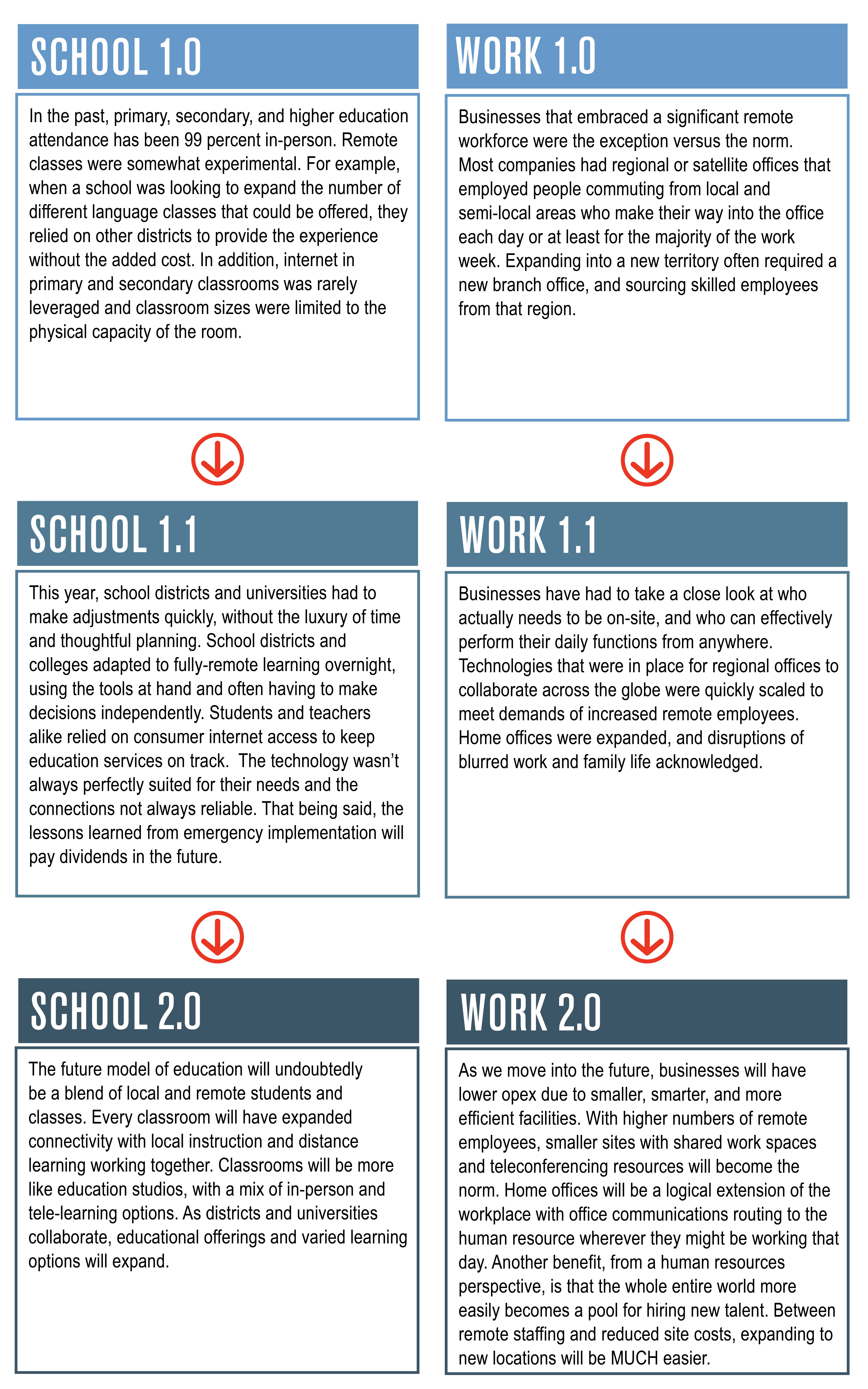 School 2.0: How to get there
The broadband initiatives of the past will need to rapidly expand even more to drive nearly complete high speed connectivity access. Wireless and wired connectivity are working together to get us there, but it's taking a lot of service provider high speed interconnections and services. Provider and school networks need more points of interconnection, faster interconnections, and more reliable interconnections.
Schools establishing classrooms as learning studios will need dedicated bandwidth to each room. This can take the form of fiber to the class or, if the learning studios are close enough to the MDF or IDF (fancy terms for networking closets) perhaps ethernet will do. With each studio sharing video, audio, and multimedia, available bandwidth gets consumed quickly. Districts will need to augment their school network connections as well as the uplinks to their IPSs. This can be done by upgrading gigabit connections to 10GB, 10GBs to 25GB or 40GBs, and 40GB up to 100Gb.  For districts that have their own dark fiber, these upgrades can be as straight forward as swapping transceivers. Essentially every school will become its own datacenter, and will employ a mix of copper, fiber, direct attach copper and active optical cables, as well as a variety of transceivers for local and distance data transfer.
Work 2.0: How to get there
In order to create a workplace of the future, smart connectivity implementations are required. Even though there are fewer people physically in the office, employees are accessing centralized resources, so both incoming and outgoing bandwidth needs are rapidly increasing.  Like with schools, the internal networks will require more and faster interconnections. That might sound scary, but leveraging DACs and AOCs can take the bite out of increasing speed and reducing points of failure. Enjoying the benefits of having remote employees goes hand in hand with building resilient and capable infrastructure. It's common for networking equipment to have the capability to treat multiple interfaces as one fault-tolerant high-speed connection, and adding a few more interconnections really pays off. It is a case-by-case analysis how resilient a business's network needs to be. In the former model, a power failure or internet outage might bring work to a halt. With all of your eggs in geographically separate baskets, the events that have such a reaction are fewer and further between.
Smart Investment
Expenses paid toward moving to these 2.0 models will have a quick return on investment. Having a trusted technology partner like Integra Optics makes all the difference in getting you the most performance for your dollar and planning the path from today to tomorrow.
If you are looking to efficiently and effectively transition into the world's new workplace and school models, reach out to one of our optics experts to discuss custom solutions that will work with your network.