Preparing For The Future
There comes a time in every company's year where it needs to consider what expenditures will make it more capable of responding to operational and market challenges. Testing gear and emergency preparedness spends are a perfect example. Maintaining operational continuity is crucial because downtime is expensive! Many departments look to spend up to their justified budget so as to not get a reduced allotment in the next year, but these spends can actually be done in a really smart and tactical way.
Integra's Uptime Kits
Integra now offers customizable Uptime Kits stocked with resources specific to your industry, and completely customizable to your individual needs. Integra's Uptime Kit gives you the most important tools for responding to the unexpected, all in one rugged case. The real power of the Uptime Kit comes when you're buying multiple, identical kits. When there's an issue, knowing exactly what spare optics, cleaning tools, and test and measurement equipment your teams have in the field is an incredible advantage. Reacting quickly to business impacts is crucial, and cutting out the step of scrambling to figure out what you need, and what you have on hand, makes a huge difference. Working from your personal kit configuration allows you to easily restock depleted kits and order additional kits for outfitting more sites or technicians.
What Does a Typical Uptime Kit Include?
Test and Measurement Equipment
Helps you diagnose and identify the impacting problem. These are selected based on the specific function of your network. Light meters, visible fault locators, fiber inspection tools, OTDRs, and associated devices help you find just where things are going wrong. The first step to solving a problem is defining the problem.
Cleaning Supplies
The amount of trouble that stems from improperly cleaning is staggering. Cleaning can resolved some issues and prevent intermittent presentation of others. Even during a network down emergency, proper cleaning is very important.
Integra Optics' Smart Coder and Transceiver Spares
Spare transceivers are an operational requirement.  Even though all of Integra Optics transceivers carry a lifetime warranty, improper handling, platform power irregularities, and extreme environmental conditions (we've all had HVAC failures) can all lead to transceivers failing in service.  Instead of needing the same spare for every one of your installed platforms, the Integra Optics Smart Coder line is capable of recoding your Integra transceivers, allowing one base part to fill many spare requirements.  The Smart Coder line is also able to retune all OEM and third party optics that utilize the MSA standard tuning mechanism.
Fiber Jumpers
Having a reliable reserve of fiber optic jumpers that has been tailored to your applications will save you so much headache. Fiber jumpers are incredibly easy to mistreat. When technicians are preparing to troubleshoot an issue, they often spontaneously grab several different jumpers, chosen at a whim, and transport them to the problem site.  The jumpers that didn't end up being needed to implement service restoration don't always make it back into the spares collection either. Sometimes they are transported around and handled with less reverence than threads of glass should be afforded. And then when they are eventually tried as an option to resolve a future outage, they may not be terribly reliable.
The model of developing a well-defined, thought out, customized kit that can be ordered in bulk or as needed for responding to business impacting emergencies is not a "use it or lose it" budget item, but an investment in protecting future quarters' operation.  Integra Optics provides high quality transceivers that meet or exceed OEM specifications, provide you the flexibility of recoding, and do not void your platform warranties! As part of the Integra Optics Uptime Kit, they help insure the fast service restorations and easiest resource coordination.
Three Sample Kit Configurations by Industry: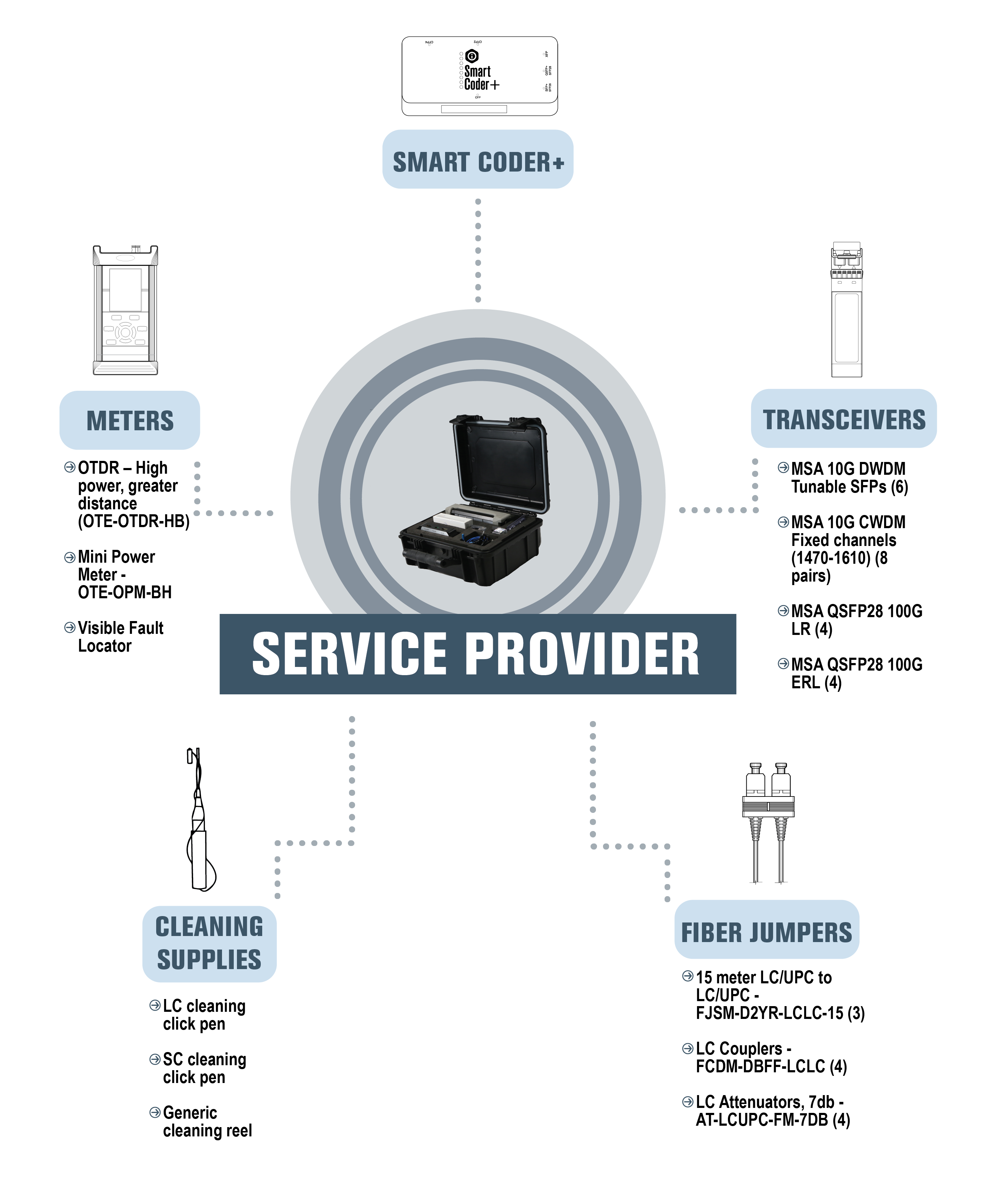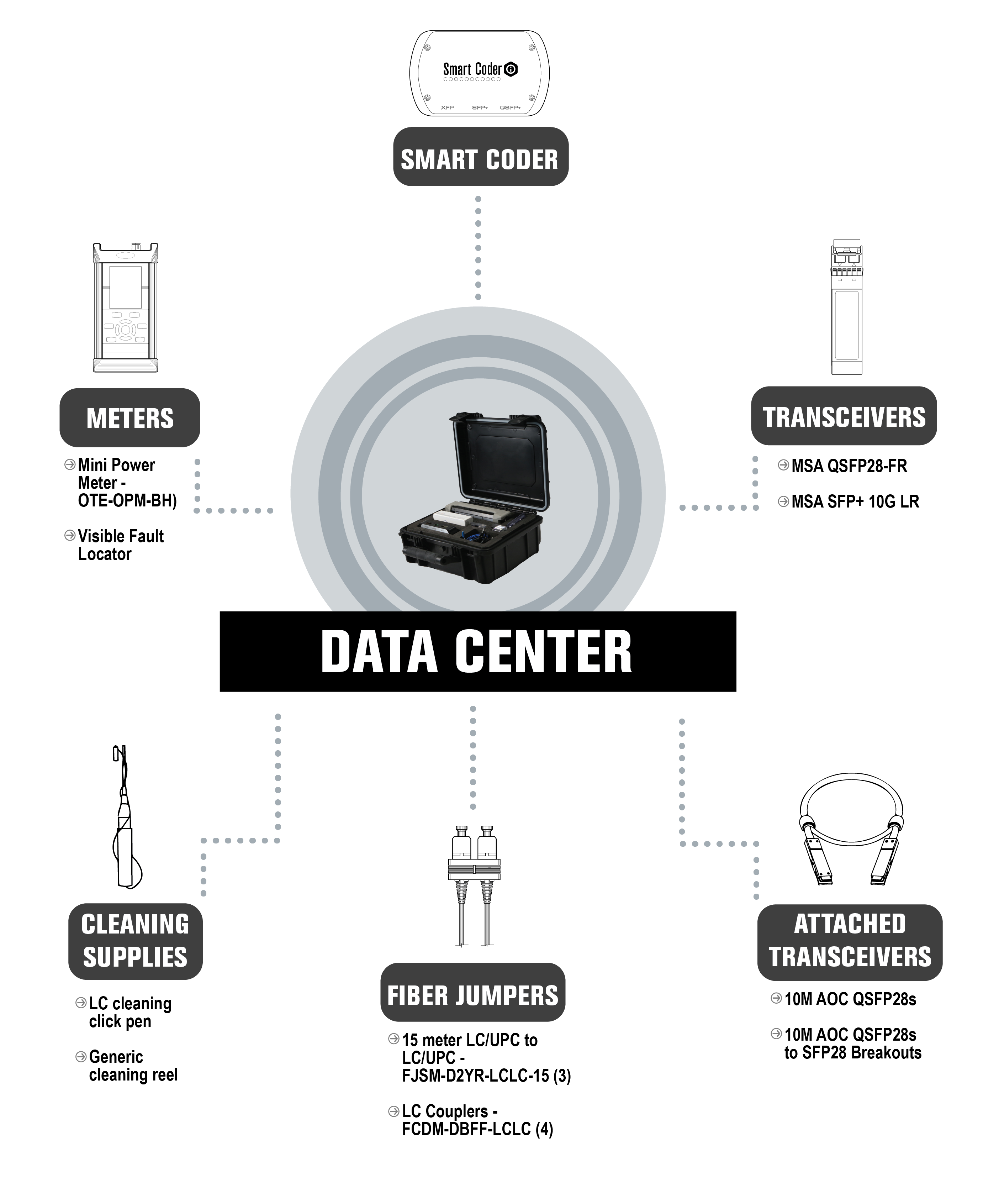 Ready to start building your custom Uptime Kit? Reach out to your sales representative or talk with one of our optics experts!